Welcome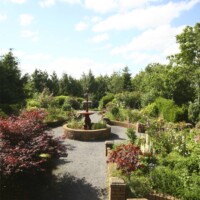 Welcome to the gardens at Ty Canol.
Ty Canol is a relatively common name for a house in Wales and means Centre or Middle House.  This particular house is situated between the villages of Peniel and Rhydardaeau some 4 miles north of the centre of the market town of Carmarthen.  From February 1991 this became the home of Viv and Mike Simmons and our then 5 children but was followed within the month by our second son and sixth and final child.
The gardens began their development on Boxing Day of 1991 (Viv and I had Christmas Day off).  We had picked up some 1,000 ash seedlings and various other trees numbering around 1,600 in total.
Throughout this site, all photographs and articles relate to the gardens. Photographs have all been taken over the years. As we build the information in the site, we will take the opportunity to date articles and photos from our collection as they relate to the creation of the gardens since 1991. Thus over time, the historical time line will be developed although gulag visitors will see the development in a retrospective manner. Additionally, we will also continue to add recent and current information.